WildEndurance will not be taking place in 2016. Please do not register for this year.
Positions Available
Welcome to the Volunteers Page! Thank you for your interest in volunteering for WildEndurance.
Volunteers are an essential part of the event, without their support this event could not take place. We need loads of people to assist over the 36 hours of the event. We also need volunteers who are able to make a longer term commitment to help out in the office with various tasks leading up to the event.
We are sure you will have a wonderful WildEndurance experience! It's a great event for a great cause and the sense of team work is amazing.
WildEndurance volunteers - Express your interest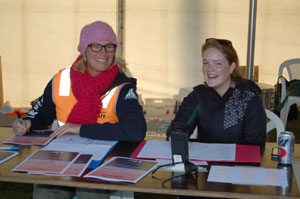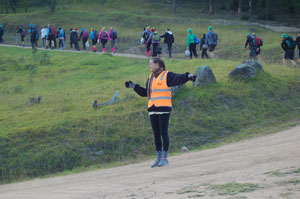 Roles before the event
Office Support:
If you can support us in the busy weeks leading up to the event here is what we might involve you in:
Create material to promote the event such as information booklets, email templates, etc.
Sending event information to registered participants
Help with planning of the event logistics
Activate communication through social networks
Roles during the event
Volunteers will work at different locations during the event weekend and in different roles.

Checkpoint Coordinator:
Overseeing set up and taking down of the checkpoint
Overseeing and ensuring the smooth running of the whole checkpoint, including troubleshooting unexpected issues and identifying and resolving all problems that arise
Ensuring clear and regular communication between the checkpoint and Event HQ
Looking after all the other volunteers at your checkpoint (making sure they are warm and happy!)
Managing other event volunteers at the checkpoint - delegating tasks, handing over to the next shift, ensuring volunteers know what is required of them
Taking responsibility, with other checkpoint staff, for packing up the checkpoint and the cleaning of all areas and toilets

Results Coordinator at Checkpoints:
Coordinating the checking in AND checking out process of all participants
Overseeing the manual back up records by recording all team movements
Recording time, team number and which team members are present. Check this against the team list to ensure no one is missing.
Calling in results and info to Event HQ

Checkpoint Hand:
Assisting with checkpoint set up and take down
Assisting the checkpoint coordinator with any tasks that need doing around the checkpoint
Keeping your checkpoint clean and functioning, including ensuring all toilets are cleaned and soap and toilet paper are stocked
Helping to manage parking

Sustainability Crew:
As a member of the Sustainability Crew, you should fully familiarize yourself with the waste streaming system and the Phytophthora Control Station. You are responsible for ensuring accurate waste sorting and thus minimising contamination in the waste streams.
Remember to actively engage with people and help them to choose the correct bin.
Set up Waste Sorting and Phytophthora Control Station
Be on hand at the Waste Sorting Station and Phytophthora Control Station, helping participants and support crews with waste sorting, as well as ensuring that all participants undertake the mandatory anti-Phytophthora measures.
Dismantling the Waste Sorting Station and Phytophthora Control.
Help at the event HQ to sort and dispose of waste.

Driver / Event Runner:
Picking up and dropping off equipment, people, food/meals, and supplies at checkpoints
Assisting with troubleshooting issues as directed by Event HQ

Media Assistant:
Uploading and sorting of event photos
Blogging
Sending out templated press releases
Liaise with media coordinator

Parking / Gate Assistant:
Directing the parking of many vehicles at busy checkpoints to ensure the event runs smoothly without congested parking areas
Keeping roadways clear for emergency vehicles
Being in charge of opening and closing gates on private property to allow access to the start for all the vehicles. This role is only on Saturday morning and will be a very busy job for about 3 hours!

Road Marshal:
Ensuring the safety of participants
DO NOT STOP TRAFFIC you are focused on the event participants to ensure that they obey road rules and look before crossing the road so they do not get hit by a car!

Trail Marshal:
In this role you will be positioned in remote or bush areas. You might be sent to a location that could be up to two hours walk from the nearest road so you need to be self contained.
If event managers change the route you may need to help with new marshalling tasks. You might be asked to help direct people to a safe area if a big storm or bushfire hits.
Keep your phone charged because we might need to contact you if plans change.
You will need to record team numbers of those who pass you (clipboard and lists will be supplied)

Your duties will include:
Ensuring the safety of participants
Directing the movement of participants on the trail
Noting the movements of participants
In some instances you might be asked to remove trail markings; do this under the direction of event staff only.

While you're volunteering don't forget to cheer on and support the participants, support each other and have fun!