WildEndurance will not be taking place in 2016. Please do not register for this year.
Preparation and Training
Key points of your training
Training program
Preventing & treating blisters
Anti-inflammatory medications
Nutrition & hydration

WildEndurance is tough. To participate successfully in the event and get the most out of the experience you are going to need to do some training.

The most important type of training for an extended trek like WildEndurance is regular LONG walks. This will train your body's systems for the unique demands of endurance events - metabolising food on the go, burning fat, etc.

Most participants usually schedule a long walk every weekend as this often fits best around work and family life. Start with a weekly 2-hour trek at least a couple of months before the event and gradually build to 6-8 hours before easing off in the last fortnight.
When you are training in the mountains be prepared for all weather types and conditions. Check out Think Before You Trek for tips on what, and what not, to do.




7 key points of your training

1. Training Program

Below is a sample training program for the WildEndurance; suitable for beginner to intermediate level participants. There are four key objectives to this program; cardiovascular conditioning, muscular endurance, functional strength and mental preparation.

2. Strength

Strength training is often neglected by many endurance athletes (and non-athletes alike); yet a well-designed strength program can have a direct and positive impact on performance, improve functional deficiencies, reduce the risk of injuries and more importantly can improve general posture and movement.

3. Specificity

Specificity is one of the most important variables in exercise programming. Simply put, nothing prepares you better for an activity or event than that activity or event itself; that is why long walks are the priority for our WildEndurance program. It sounds obvious I know but it is amazing how many people enter these events with a lack of specific preparation.

4. Equipment

As your training gets underway, and those weekend walks gett longer, that is the time to start thoroughly testing your event kit. Take the time to read carefully the compulsory and recommended equipment lists and start using, wearing and carrying all equipment on those long walks. Remember what feels like a small irritation or inconvenience after 3 or 4 hours could end your race after 12 hours.

5. Planning and Team Work

It's important to plan your training as a team. Include a combination of training sessions based around the occasional long (4+hrs) hikes where you are trialling nutrition and hydration strategies, walking the actual course (or similar terrain) and testing all equipment.

6. Nutrition and Hydration

Our nutritionist, Sophie Brown from 'Energise & Exercise' will be providing WildEndurance competitors with ongoing information and advice, on what to eat and drink in the lead up to WildEndurance, during the event and post event.

7. The Taper

There is very little you can do to improve your fitness in the last 1-2 weeks prior to an event. Hopefully at this stage you will have already done all the hard (and long) yards and can now focus on rest, nutrition, and hydration to maintain your peak performance... ready for the big day (or two)! Too often people try to squeeze in a few extra sessions in the last few weeks hoping to gain an advantage but this is the worst thing you can do, often leaving you overtrained and at risk of injury or illness... not the ideal conditions for achieving your best.

Training program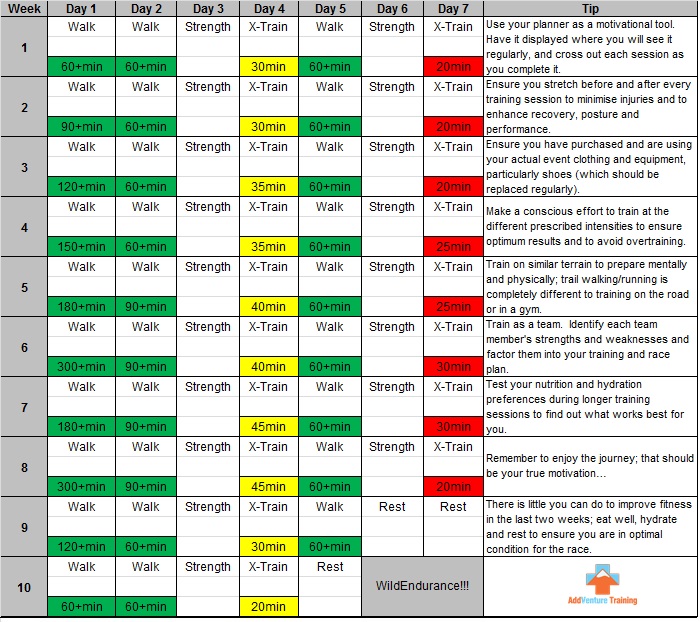 Click anyware within the timetable above to download the full training guide.

Preventing and treating blisters

If you do get blisters you need to fix it yourself using your first aid kit. Your support crew should be prepared to treat blisters and have plenty of extra blister bandaging with them in case you need to top up your team's supplies.

Anti-inflammatory medications

If you think you need to take anti-inflammatory medications during the event please be careful not to exceed the manufacturer's daily dosage advice. Over the counter anti-inflammatories are not intended for prolonged use. Over reliance on such medications can mask pain and may lead to long term joint or tissue damage. Pain is the body's way of alerting you to a problem and usually it is better to listen to your body rather than to mask the pain and continue.

Nutrition & hydration

Dehydration is one of the most common problems during the event. Make sure you drink enough fluid. The symptoms of dehydration are not evident until you are already dehydrated (dry mouth and lips, tiredness, irritability, tight/heavy feeling muscles, headache). Drink electrolyte drinks as well as water. Monitor your urine and make sure you are urinating at regular intervals and that the urine is light yellow to clear. If you are not urinating or your urine is dark in colour, you may be dehydrated.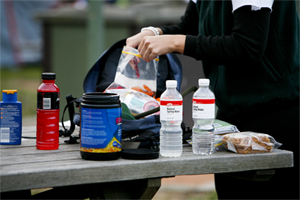 Some popular endurance foods include:
Nuts
Dried fruit
Bananas
Sandwiches
Cereal bars such as Go Natural
Sustagen
Avocados
Fried Rice
Snakes (the lollies!)
Potato chips
Chocolate
isotonic drink powder


As a rule it is best to eat small amounts regularly, rather than larger serves occasionally.

As you trek your body metabolises waste such as lactic acid through the stomach - hence your appetite for particular foods may well vary wildly during the event. So bring a diverse range of tastes and textures.
For any questions or queries, please contact our nutritionist, Sophie from 'Energise & Exercise'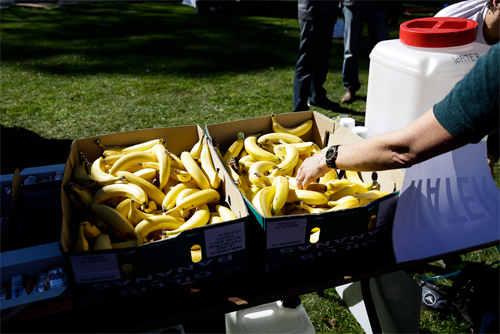 Sponsored by:
Principal Sponsors: