WildEndurance will not be taking place in 2016. Please do not register for this year.
Recruit Team Members
WildEndurance is a team challenge. You will be amazed what you can achieve as a team.

It is important to build your team early so that you can train together. Here are some ideas on how you can find team members who are a perfect match for you: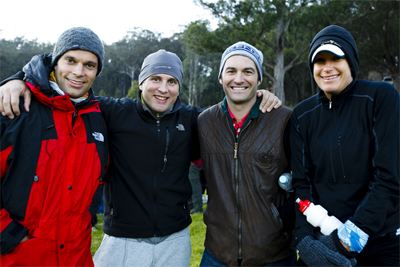 Contact your friends. Check out the template available in our promo material section.
Ask your colleagues at work. Speak to your HR manager.
WildEndurance is all about team building.
Advertise in your gym. Make your own personalised poster.
Contact your local running and bushwalking clubs.
WildEndurance is tough and you will get very tired. Teamwork is all about how to best support each other at all times under all conditions. In order to prepare for this when you are building your team, ask yourself the following:
Do you have similar fitness levels?
Do you have similar expectations of pre-event training and target finishing time for the event?
Be willing to support your team mates at any stage of the event. Discuss before the event with your team members strategies to support each other.
Be aware of your fatigue level, know your limits and know how you react when you are extremely tired.
Team Finder
Need help finding extra team mates?
If you'd like to compete and are looking for a team to join or extra team mates to join you, complete the details below and we will add you to this table of folk looking for a team or team members. Make sure you submit your details and then make contact with others on the list. Please let us know wheh you would like your details removed by
sending an
email
to the event organiser
.