WildEndurance will not be taking place in 2016. Please do not register for this year.
Support Crew
Caring for the team
Regulations
Driving directions to the checkpoints
Looking after yourself
The crew car
Psychological support
Some suggested items...
Safety
Click here to access all the information in the Support Crew Handbook.

If you are competing in WildEndurance you'll need to invite a few of your friends to be a support crew for your team.

During the event your support crew will meet you at the designated checkpoints around the course to provide moral support, clean dry clothes, food and liquids. For more information on where checkpoints are and the facilities that are available, click here .

Your support crew can also assist you with your training before the event and with fundraising.

Being in a support crew is great fun, gets you involved in the event and allows you to be part of the experience.

Below are some helpful tips for your support crew on what they need to do to prepare for the event, what they will need during the event, and how they can make sure they give your team the best possible support to ensure you complete the event and meet your goals. Click here to access all the information in the Support Crew Handbook.
The 'mud map' indicating the key locations for the event can be downloaded here.



Caring for the team
There are some important things a support crew needs to know and do in order to assist their team:
Talk to the team about how they are going to approach the event, their expectations and what food and fluids they will need. For instance, they may like to start on savoury solid food and then shift to sweet, more easily digested food later.
Find out their preferred drinks and prepare mixtures in advance.
Have variety of food at each checkpoint. Keep some (nice) surprises in reserve.
Don't forget to ask the team before they leave what they would like or will need at the next checkpoint.
Have items ready for your team before they arrive and, if necessary, walk with them as they eat/drink/put on or take off clothing. Don't make it too easy or too comfortable for them to stop, as this time will accumulate.
Wear a bum bag containing a tube of sunscreen, lip balm, Vaseline and favourite simple foods (muesli bars, fruit sticks and gels). It's on hand then if you need it quickly and will save you returning to the car.
There will be times when some team members will not want to eat. Try to find out what they like and have a few different items as a surprise (eg on a hot day icy poles go down a treat, custard or chocolate milk may slide down well when the desire for food has gone, salty foods like cheese and olive bread sticks can be very appealing).
Take some instant mashed potato to cook on your camp-stove, adding salt, milk/water as required. This is a great option when calories are needed and nothing appeals. Also, you can use the mix to thicken and add calories to soups, minute noodles. etc.
We have a mantra "Beware the chair". Try to minimise the time the team spends off the road. Some prodding might be needed if you think they are hanging around for too long. Remind them "the sooner you get going, the closer you'll be to the finish".
Regulations
Every team should have a support crew and must be self-sufficient. The support crew is responsible for providing the team with food, water, changes of clothes, first aid kit resupply, etc. during the event. Prescription medications and painkillers are each team's responsibility and the support crew must be well-briefed on team members' medical needs.
Teams must not meet their support crew at any location along the course except at checkpoints. Any team found breaching this rule will be disqualified.
If your team needs help on the course you must call the event organisers on the HQ Emergency Mobile and a first aid team will be sent.
Teams and support crews must obey all instructions from checkpoint staff.
Support crews are responsible for obtaining their own map of the area and finding their own way to checkpoints. Event organisers are not responsible for the safety or whereabouts of support crews.
Teams are responsible for the actions of their support crew. Teams will be penalised for any disruptive behaviour or violation of event rules by their support crew.
Care for the environment
Littering is prohibited. Participants and crews are requested to respect the environment and neighbourhood by using the litter bins and recycling bins at the checkpoints.
Gates must be left as found. If closed, a gate may be opened to pass through and closed again immediately.
Teams and support crews must obey all road rules and respect residential and local parking regulations.
Participants and support crews are requested to keep noise levels to a minimum when walking in or near residential areas during training and the event.
Teams and support crews must obey all National Parks regulations.
Dogs are not permitted on the course or at checkpoints.
Smoking is not permitted on the course or at checkpoints.
Fires are only permitted in official fire places. Do not light a fire on grass areas or in contravention of National Park or council rules.
At checkpoint three, Wentworth Falls Public School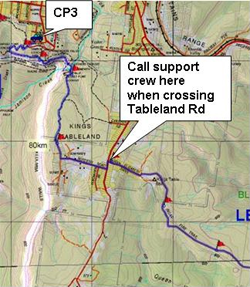 In order to manage access for all support crews to CP3 we ask all support crews to not arrive at CP3 until after their team has crossed Tableland Rd at 79km (see map on the right). At the Tableland Rd crossing, there is good mobile phone coverage and from there it will take teams between 25 minutes to 1 hour to get to CP3. This should enough time for the support crew to drive there from CP2, Katoomba or Leura.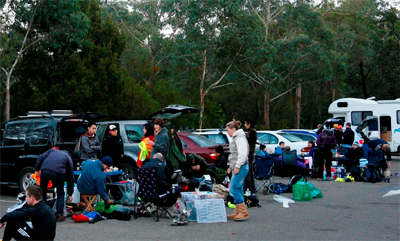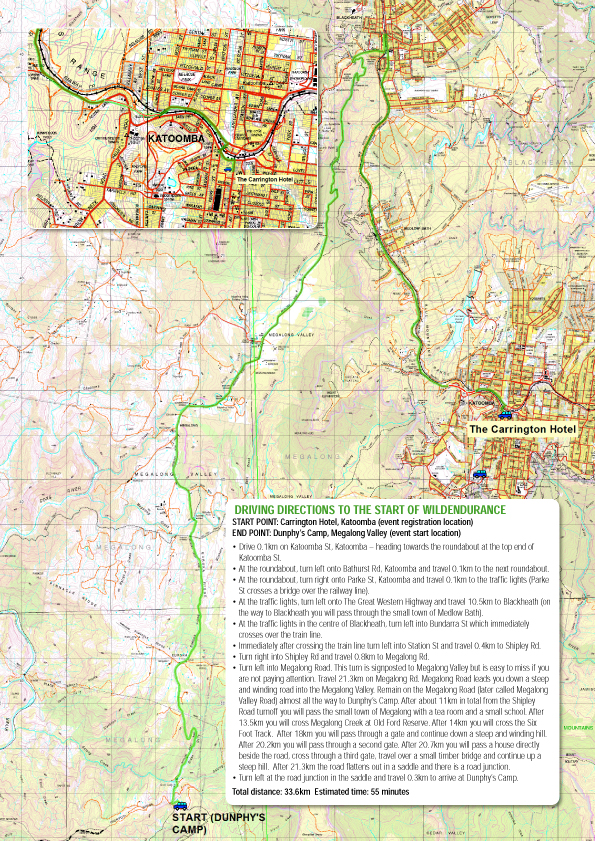 Driving directions to checkpoints
Looking after yourself
It is important that support crew members look after themselves as well! team mates
You will have to be prepared with your own clothing for temperature extremes from sub-zero to 30°C and you will require food and fluids to sustain yourself throughout the event too.
Take two alarm clocks for the support crew to make sure you are on time at each of the checkpoints.
Take along a folding chair so you can sit outside the car while you are waiting for your team to come in. This will also be useful for your team if they need to change socks, dress blisters, etc.
Make sure you have some treats for yourself that you can enjoy and/or something that will help to pass some waiting time, whether that's a particular food, a book, binoculars for bird-watching, music (with headphones please!), etc.
If you don't look after yourself, you'll be no good to your team. Make sure you eat and drink regularly as it's easy to either forget or think you don't need to.
Make sure you get some sleep - again you will be the most useful if you are alert and cogent.
Put on sunscreen and reapply as necessary. Don't allow yourself to get sunstroke or become dehydrated.
The crew car
It is important to keep your crew car neat and organised.
Organise the supplies in a way that you can find whatever you need at any time. Boxes can be a good way of organising items. You may want to put savouries in one box, sweet stuff in another.
Write the contents on both the top and bottom of cans with a felt tip pen - this saves pulling it out to see what it is.
If your team is using electrolyte/carbo powder, write the dilution (eg 1 scoop per 500 ml) in a waterproof pen on a label (eg masking tape) and stick it to the container. There's no sense wasting time trying to read small print on a label in the dark or dusk.
Make sure the first aid kit is easily accessible and everyone knows where it is
Put items back from where you got them. Things can easily get messy and chaotic as the race progresses and you don't want to have to waste time and energy with unnecessary searching.
Know where the changes of clothing, socks, shoes, night gear, and spare batteries are for your team members.
Psychological support
Look at your team's body language. When people start to get really tired, particularly in the wee small hours, remind them to lift their chest and move with their whole body.
If you're walking alongside your team through the checkpoint, encourage them to stride out if you notice their step shortening through fatigue.
Everyone has a different approach and different temperament. Teams, be kind to your crew, they are there to help you to achieve your goal and want you to succeed. Crews, be kind to your team, at times they may be fragile, and they will definitely feel fatigued.
Be encouraging
It obviously can depend on how well you know your team as individuals, but occasionally a good crew needs to be tough.
Ensure that your team is adequately hydrated by checking if they are frequently passing urine. Ask if it is 'clear, colourless and copious'!
Your team will go through a range of emotional highs and lows during the event based on: fatigue, mental state, pain, perceived performance, body's circadian rhythms, etc. Nutrition can play a significant role in controlling the lows. A steady supply of calories will help to keep the mood up. The rising sun tends to have a positive impact on both teams and crew.
Above all, if the support crew is in high spirits, positive and believes in the team's goal, this will help everyone. Support crews will get fatigued too! Look after yourselves; keep the mood positive when you are with the team.
Take a sense of humour!
Some suggested items to take with you:
Course directions, maps, checkpoint details
A full tank of fuel
Water - old 2 or 3 litre juice bottles are a good size and maybe one 12-15 litre container to top them up
Esky for food and drink
Ice packs and ice
Food and drink for the team (of course!)
Food and drink for crew (very important!)
Portable camping stove for coffee / tea / heating soup / mash potato etc.
Coffee / tea / soup / sugar / milk
Basic first aid kit (eg. blister treatment, headache tablets, sunburn treatment, emergency blanket, conforming bandage, painkillers, sunscreen, non steroidal anti-inflammatories, etc)
Wool blanket
Cutting board and knife for making sandwiches etc.
Spoons and mugs
Torches - both headlamps and hand-held torches
Pens, paper and calculator
Small/compact fold-up chairs
Insect repellent
Sunscreen & lip balm
Alarm clock (x2)
Garbage bags
Antibacterial wipes for use after toilet stops and to clean hands before preparing and handling food
Toilet paper
Ziplock bags (good for the team to hold toilet paper, left over food etc and also good for making up small ice packs)
Oil for massaging
Toothbrush and toothpaste - this will help your team to feel fresh
Bowl and towel for team to wash face or other parts of the body - also useful for soaking feet!
Can opener
And last but not least, a camera to record the experience!
Safety
Drive conservatively and observe speed limits. Roads are not closed to traffic and the teams may share the road with both support vehicles and regular traffic at some points.
Be patient when driving. Your team's pace ultimately dictates your arrival time, not your driving speed.
Be cautious at night. Be prepared to encounter both wombats and kangaroos during the evening, and be prepared for them to run erratically in front of your vehicle.
Crews should wear light and bright clothing and reflective vests are a good idea at night.
Ensure all members of the support crew have the opportunity for some sleep during the event. If a crew is overly tired or exhausted they will be of less use to their team during and after the event.

Download all the support crew information as a pdf here.
A 'mud map' depicting the key locations for the event can be found here.
Sponsored by:
Principal Sponsors: