WildEndurance will not be taking place in 2016. Please do not register for this year.
FAQ's
What should we wear?

We recommend comfortable clothing which takes sweat away from the body. You should be prepared for a wide range of temperatures, as well as wet weather - so clothing that can be layered, plus waterproofs too!

There is also some compulsory gear that you will need to carry - click here for more details.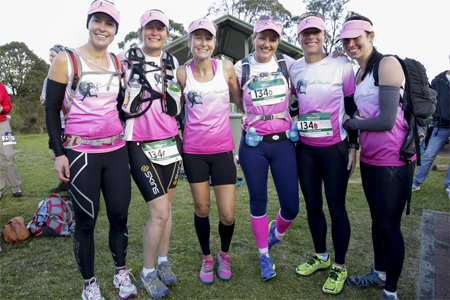 Is there compulsory gear to carry?

Yes! Click here for the list.

What if we get lost?

If you are following the detailed course notes and the markings on the course, it is extremely unlikely that you will get lost. However, you can download directions on what to do if you get lost by clicking on this link.

What do we do in the event of an accident?

Your safety is of paramount importance, and we have strict safety procedures in place to ensure you are well looked after in the event of an incident. Follow this link to the Emergency Procedures document. You will be given a copy of the Emergency Procedures on the back of the Map & Info Book (you will need to protect this from getting wet).

How much time do we have to finish the course?

There is a strict 36 hour time limit for 100km teams. 50km teams have 21 hours to finish.

Please note that each Checkpoint has a strict closing time. The times are based upon how long it would reasonably take to complete the remainder of the course before the 36 hour cut-off. Teams must ensure that they check-in and checkout from each Checkpoint before this closing time.
| | |
| --- | --- |
| Checkpoint 1: | 5pm Saturday |
| Checkpoint 2: | 3:15am Sunday |
| Checkpoint 3: | 2:30 pm Sunday |
| Finish | 8:30 pm Sunday |
How long will each of the 4 legs take?

As part of your preparation you will have to work out a team strategy. You may consider your target pace, the regularity of breaks on each leg, the rest time at checkpoints etc. Times for each section of the course vary quite a lot as some teams run most of the course and others just aim at finishing before the cut off time. Below is a table of average times from 2014. You can use this as guideline and compare it to your experience from training walks.
Guide to how long each leg takes
2014
KMS
FASTEST TIME (hrs)
TIME AT CP (FASTEST)
AVERAGE (MEAN)
TIME AT CP (MEAN)
SLOWEST TIME
TIME AT CP (SLOWEST)
Leg 1 Start - CP1
26.5km
3:50
Sat 11:50
6:35
Sat 14:50
9:37
Sat 18:07
Leg 2 CP1 - CP2
21.5km
3:00
Sat 14:59
5:09
Sat 19:25
7:26
Sun 0:47
Leg 3 CP2 - CP3
35km
5:59
Sat 22:44
8:41
Sun 7:21
11:11
Sun 13:18
Leg 4 CP3 - Finish
17km
3:47
Sun 2:41
5:20
Sun 11:35
6:58
Sun 19:43
Can we sleep during the event?

You can if you want to - but if you do it is best to sleep for short periods of 3-4 hours at a time. Do not sleep on the course. You must leave the course at a checkpoint and either camp there, or go to a local B&B or hotel - and always let us know where you are.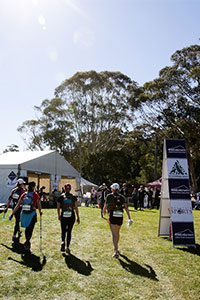 What are Checkpoints?

Checkpoints are stations at regular intervals around the course where event marshals will record your progress and you will be able to meet your support crew and eat or rest for a while.
What facilities are at the Checkpoints?
T
oilets and some rest facilities. Fluids and basic foods (fruit/snacks etc) are provided - however your support crew should cater for your primary nutrition needs.

Must I have a support crew?

Yes. To participate in an event of this duration you will need more food and equipment than you can carry with you. Your support crew can meet you at the Checkpoints with whatever you need. Crewing is great fun and also a great way for interested people to get an idea of the event for future participation.

Does my team have to stick together over the entire length of the trail?

Yes. It is compulsory for the whole team to stay together the whole time. The team must arrive together and depart from each Checkpoint and also cross the finish line together.

Is there an individual category in WildEndurance?

No. WildEndurance is a team challenge event. Preparing, training, fundraising and competing as a team is all part of the special experience of WildEndurance.

Does WildEndurance have an age limit?

All participants must be at least 18 years of age on the first day of the event - 2nd May 2015. There is no upper age limit, but you will need to be in good shape to complete the course! In 2013 the oldest competitor was 64 years of age - and he completed the course in 36 hours!

Will my mobile phone work on the course?

Some parts of the course have no phone access and teams are required to carry two mobiles on different networks, to maximise coverage. Click here to get information about the coverage.

How do I enter WildEndurance?

Click here and follow the prompts.

I want to volunteer, who do I contact?

Contact WildEndurance - we'd be glad to have you along! Click here for role descriptions and key information.

How much does it cost to register?
Registration is $180 per person. Each participant must raise a minimum of $400 in tax deductible sponsorship before the event.

How can my sponsors make a donation?

The easiest way for your sponsors to make their donation is via the sponsorship link. They will receive a tax deductible receipt after they have donated.

Must I meet the minimum fundraising pledge?
Yes. Failure to meet the $400 minimum target will affect your eligibility to participate in the WildEndurance event. There are lots of fundraising tips on this website to help you get started.

How does the sponsorship donation help?

By raising money for The Wilderness Society you will be directly supporting the on-going protection and restoration of our wilderness and wildlife, helping keep our climate, our rivers and our unique Australian wild places healthy and safe for future generations to enjoy.

What happens if I need to withdraw before the event?

The first thing to do is e-mail us here and let us know.
All registration fees are non-refundable.

Donated sponsorship funds are non-refundable. If you withdraw from the event your donations are re-assigned to your team.

What is the course like?

The course has a number of long steep climbs and many sets of stairs, but the tracks are generally wide fire trails and provide a good footing. You will be walking through some of the most spectacular wild places in Australia. Click here to check out the route.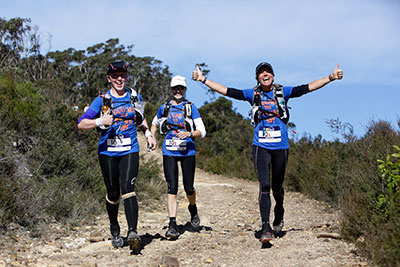 What sections does the 50km course cover?

The 50km course covers the first two legs of the 100km course. 50km teams start at Dunphy's and finish at checkpoint two at the Queen Victoria Hospital.

Am I fit enough to do WildEndurance?

You should allow yourself enough time to prepare properly beforehand and make a realistic assessment of your fitness and capabilities. The course is tough, but with proper training, any reasonably fit person can successfully participate. Long walks (6 hours or longer) over hilly ground should be a core part of your training program before the event. There are several training ideas on this website.

Can our support crew walk with us for part of the trail?

No. We have to limit the numbers on the actual course so only registered participants can use the trails during the event.

Why aren't 'skins' or Coolmax sufficient for the compulsory gear?

Although 'skins' may keep you warm enough when you run or walk in normal conditions, they will not protect you from the potentially freezing overnight temperatures in the Blue Mountains.

What happens if I get a blister?

Make sure you read our advice on avoiding blisters! But if you do get a blister you need to fix it yourself using your first aid kit. Your support crew should have plenty of extra blister bandaging with them in case you need to top up your team's supplies.
Sponsored by:
Principal Sponsors: