WildEndurance will not be taking place in 2016. Please do not register for this year.
Hold Your Own Event
Fundraising events - making it fun and easy
Fundraising events are a good way to raise cash and give your supporters a good time. If you organise events as a team and the team invites all their personal contacts it is usually possible to gather a good crowd. Otherwise look for community events you can get on the back of - a cake stall outside a busy shopping area or at a local community festival. The workplace is also a great captive audience!
Drinks nights at work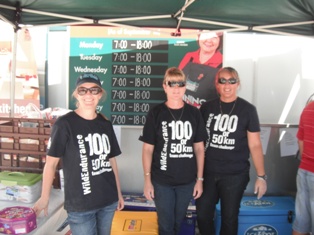 Ask your employer if you can have a Friday night drinks in the boardroom or at a local pub. Perhaps your employer can provide the booze or else people can buy their own. Charge a couple of dollars at the door and take the opportunity to make a short speech telling your colleagues what you are doing, inviting them to support you. A simple raffle with donated prizes is an easy way to raise cash. No-one minds buying a $2 raffle ticket or throwing in $5 for 3 tickets.
Dinner Party
Invite your mates for dinner and charge them for the pleasure. It's often good to have a theme - Indian, Hawaiian, Mexican or maybe a bogan BBQ!
Guessing Competition
You must all remember this one from school. Get a jar of lollies, coins or whatever and take it round your work place, friends and family charging them to guess how many objects are in the jar. Charge for each guess.
Movie Nights
Most local movie theatres will sell you tickets below cost price which you can sell onto your friends at whatever price you think they will manage. Choose a film you know your mates will want to see and a night of the week when most of them are free and send out the invites! The local independent cinemas are the easiest for arranging this sort of thing but most chains will also oblige.
Trivia Quiz
Organise a night in the local hall with trivia teams, word games, entertainment. Charge people an entry fee and pass the hat around when they are inside also. Try a simply raffle or auction of goods donated by local businesses.
Lamington or Cake Drive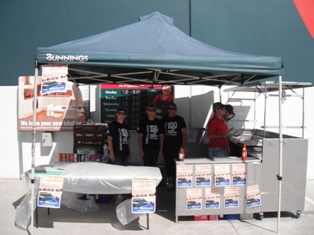 Everyone loves a home made cake. Make some cakes and take a trestle table to the local shopping centre or sports field on a Saturday morning. Some companies are set up to supply the gear for bulk-making Lamingtons which you can then sell at a profit (please note: some local councils require you to get permission to set up stalls in public areas).
Sausage Sizzle
Several local businesses, as well as surf clubs and RSLs, offer sausage sizzles that can be booked by local groups as a fundraiser. Check with your local council what's available in your area.
Posters and flyers
You can download a personalised poster from your fundraising webpage. Please contact us by email or call 02 9282 9553 if you would like us to mail you some of the event posters or some flyers or postcards.
Sponsored by:
Principal Sponsors: