WildEndurance will not be taking place in 2016. Please do not register for this year.
Safety and Briefing Notes
Tracking participants
The Course
Course safety
First Aid


Tracking participants
The Start
WildEndurance starts at 8am 3rd May at
Dunphy's Camp
at the end of the Megalong Valley Road, about 90 minutes drive from Katoomba.
All participants will be required to check-in before the start of the event. Check-in will take place at Dunphy's Camp from 6.45 - 7.30am.
Checkpoints
Checking in and out of checkpoints
To record your times and for tracking and safety reasons it is important that at every checkpoint you do the following:
Check in: Follow the bunting directly to the checkpoint tent and have your team and individual numbers recorded by the timing staff. You must check in with timing staff first before going to your support crew.
Check out: You must check out of every checkpoint. When you are ready to continue you must return to the Checkpoint tent as a complete team to check out immediately before leaving the checkpoint.
Withdrawing from the Event
If you intend to withdraw from the event you must do so at a checkpoint unless you are assisted from the course between checkpoints due to injury or emergency. To withdraw at a checkpoint you must go to the checkpoint tent and do the following:
Notify the timing staff that you are withdrawing from the event.
Complete and sign the withdrawal form.
If you are carrying the Map & Event Info book make sure you hand it over to your teammates as it contains the Emergency Instructions.
Hand over to your team mates any Compulsory Team Gear you are carrying.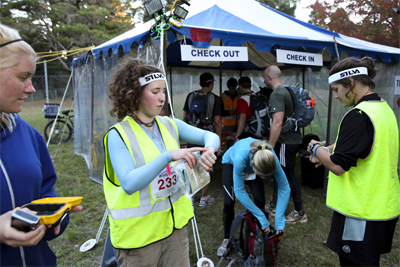 The Course
Map & Event Info book
The Map & Event Info book will include all of the details you will need regarding the course including detailed maps of each leg of the course.
Emergency Procedures
are included and you must carry this with you at all times.
Cut-off times
There is a 36 hour limit to complete the full 100km course and a 21 hour limit for the 50km course. Please note that each checkpoint has a strict closing time. The times listed below are the times that your team must depart each checkpoint by. If you miss a cut-off time you will not be allowed to continue on the course.
| | | |
| --- | --- | --- |
| CP1 | 5:30pm | Saturday |
| CP2 | 3:15am | Sunday |
| CP3 | 2:30pm | Sunday |
| Finish | 8:30pm | Sunday |
Course Safety
In any incident please follow the
Emergency Procedures
on the back of your map book.
This is a long event and contains walking track as well as fire trails. You will be going out to remote areas that are not easily accessible. The temperature in early May in the Blue Mountains can vary widely from below zero, snow and rain to pleasant sunny days. The nights are always cold and expect a night maximum of 5 degrees Celsius. The wind chill can lower this substantially.
The compulsory gear requirements are for your safety and are the bare minimum that you will need. If the forecast is for bad weather you should consider carrying, or having accessible, extra gear such as a fleece and warmer Goretex jacket and pants. If you are injured, tired or lost you may have to wait out in the open for several hours during the night in wet, freezing conditions. Please check forecasts and be prepared for all conditions - they can change quickly.
Course officials will try to reach any injured participants as soon as possible but depending on the location this may still take a number of hours. You should familiarise yourself with the correct use of a space blanket. If using a space blanket wrap it fully around your body - it will not work if you drape it over the top of you. If you need to stop, seek shelter from the elements, use your back pack for insulation from the ground, put on all your gear and wrap the space blanket as tightly as possible around your whole body. In emergency light a small fire for warmth using your matches and firelighter. Do not create a bush fire.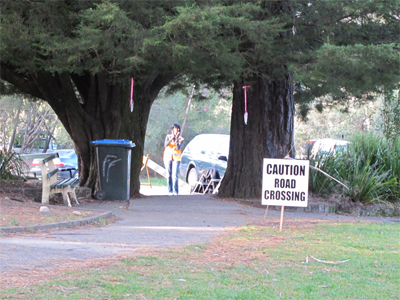 Each participant is ultimately responsible for their own well-being. Please be aware of the effects of dehydration, hypothermia, and extreme fatigue. If you are not fit to continue please pull out at the next checkpoint.
Remember that support crews are not allowed onto the course - if your team needs help you must call the event organisers on the HQ Emergency Mobile and a first aid team will be sent.
Some roads and tracks are not closed to traffic, vehicles and other users. Please be aware of other walkers on the walking trails and give way to vehicles on the public roads. Be particularly careful at road crossings. You must walk on the footpath or road verge of all bitumen roads unless told otherwise.
Safety vests
You must wear a High Visibility Safety Vest as the outer most layer when travelling on all sections of the trail at night and whenever you are on a public road (day and night). The High Visibility Safety Vest with reflective strips must comply with "Australian Standard AS/NZS 4602:1999 - N Class for night-time use". If you would like to pre-order this item we can supply vests at a cost of $20 each.
Phone coverage
Please see the 2015 Map & Event Info book on 'The Course and Maps' page for detailed mobile phone coverage by network and trail section.
First Aid
You, your team and your support crew are responsible for administering your own first aid for minor issues. You must carry your own blister pads/bandaids, Vaseline, sunscreen, strapping tape, pain killers etc. The roaming First Aid vehicles are available if you need additional first aid help or evacuation.
Prevention is the best strategy. The main reasons cited for withdrawing from the event are largely preventable:
Blisters - a blister could take you out of the event and you can easily prevent them
Dehydration - stay hydrated!
Fatigue - a key symptom of dehydration
Knee problems - if you have any problems with your knees take measures to support them
If you encounter an injured runner on the course please stop to help them and follow the
Emergency Procedures.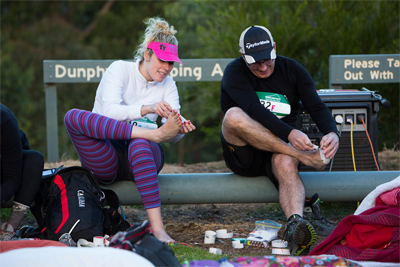 Sponsored by:
Principal Sponsors: