WildEndurance will not be taking place in 2016. Please do not register for this year.
Workplace Dollar Matching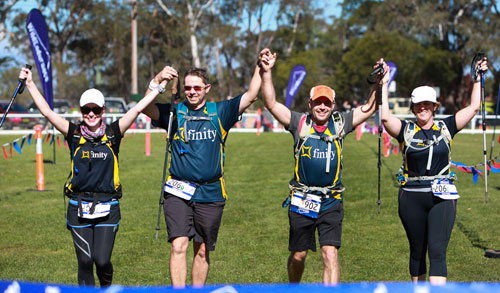 Many companies have programs where they match dollar for dollar money raised by employees for charity (see the list of these companies below).The Wilderness Society is a registered charity and every donation is tax deductible.
If your company does not have a matching program, many organisations are prepared to make a donation to a charity to which their employees have committed.
Ask your Human Resource department or your Corporate Social Responsibility section if your company has a fund matching program.If not suggest that it might be a good thing to establish. Not only will they reap the tax benefits, but with climate change and the environment topping people's lists of concerns now is a good time for your company to be seen to support environmental organisations.

If no fund matching program exists, ask your company if it would be prepared to support your effort by making a donation to help you.Remember they will also be helping to protect our climate, our rivers and wonderful wild places, and they will get a tax-deductible receipt.
To make things easier we have created a sponsorship template that you can download and personalise. Check it out here!

The Wilderness Society can provide all the paper work on our charity status if your company needs this. We will also be sure to thank the company for their support after the event. Do not hesitate to contact us you need any further information.

Here is the list of known corporate dollar matching companies.
Company
3M
AMP
Accenture
Australand
Bloomberg
Barclays
Credit Suisse
CA Technologies
Clayton Utz
Deloitte
Deutsche Bank
IBM
Ebay
Freehills
Fosters Group
Google
Greenwoods & Freehills
Investec Bank
Johnson & Johnson Pacific
Macquarie Bank
Mallesons Stephens Jacques
Miele Australia
Origin Energy
MLC
NAB
Rheem
Sun Microsystems
SP Ausnet
Symantic
Stockland
Thomson Reuters
UBS
Upstream Print Solutions
Unilever
Vodafone
Wellington Management
Wespac
Woolworths
Corporate Sponsorship is encouraged. Please note however, there are some circumstances where the Wilderness Society is unable to accept donations from corporate sponsors of WildEndurance particpants.These are limited to a) Corporations directly involved in the extraction of natural resources in areas of high conservation value and b) Corporations with whom we are currently seeking to resolve campaign issues.Please contact us if you have any questions.
Sponsored by:
Principal Sponsors: